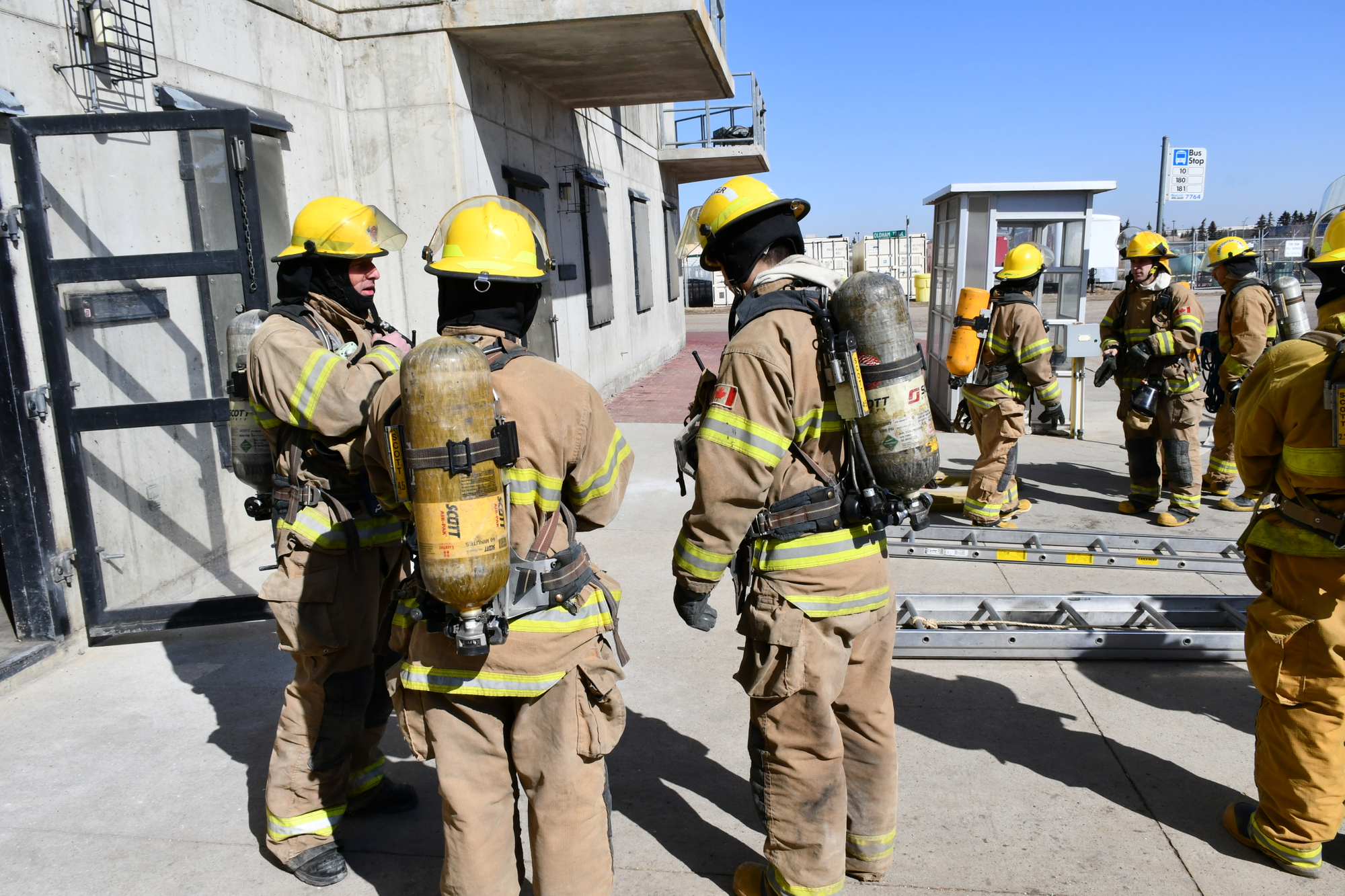 What does it take?
Becoming a firefighter is no easy task. It requires hard work, long hours of training, dedication and a sincere desire to help others. Completing formal firefighting education is an important step in your preparations, however it is only a single step, and one of many.
The firefighting career field is very competitive. You'll be up against thousands of applicants who are all competing for the same job. We have compiled a list of things you should prepare for when beginning your firefighter journey.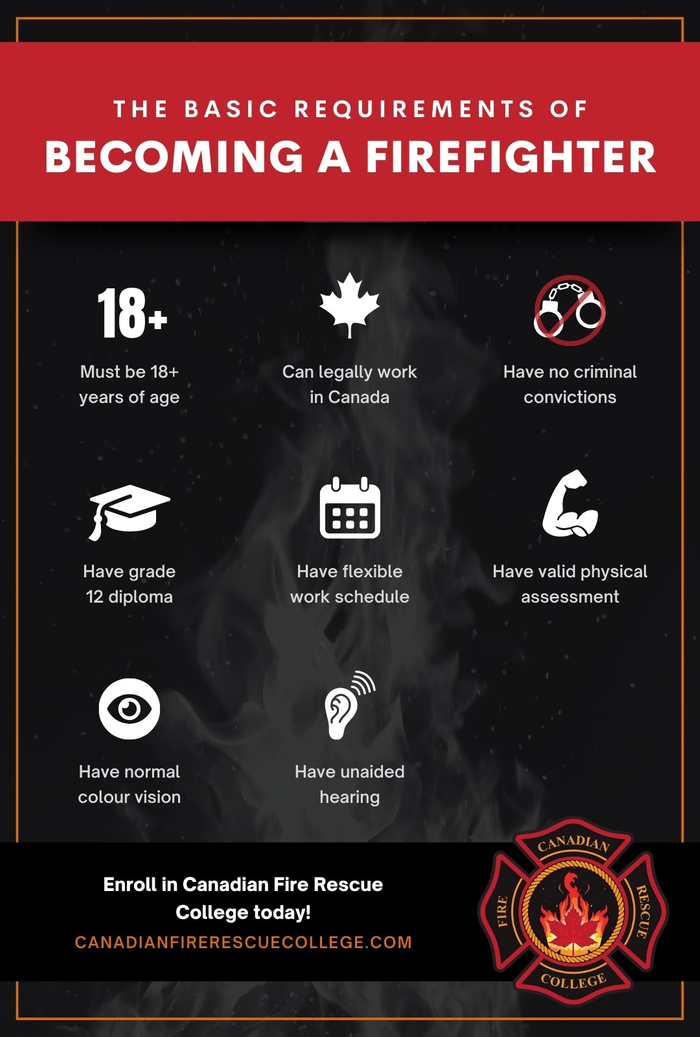 1. MEET BASIC REQUIREMENTS
Proof of age - You must be 18 years of age or older at the time of the application
Can legally work for any employers in Canada
Provide a Valid Standard First Aid Certificate, CPR Level HCP (Must remain valid throughout the recruitment process)
Have no criminal convictions for which a pardon has not been granted
Pleasure Craft Operator Card
Grade 12 Diploma or equivalent (OSSD in Ontario)
Valid, Unrestricted Class 5 or G class license (or equivalent for other provinces) * Must have no more than two (2) infractions
20/30 uncorrected vision
Valid Physical Fitness Assessment (Varies from province to province)
Normal colour vision
Normal unaided hearing
Ability to work rotating shifts, including nights, weekends and holidays
Work well under high-pressure situations
2. PHYSICAL FITNESS
Becoming a firefighter requires passing a physical ability test. The CPAT events are stair climb, hose drag, equipment carry, ladder raise and extension, forcible entry, search, rescue, ceiling breach and pull. Some jurisdictions create their own version of the CPAT that is tailored to their recruitment focus. Research what the testing requirements are in the jurisdictions you are applying in.
3. STAY CLEAN
Most fire departments demand that all recruits have a clean criminal background with vulnerable sector screening. Some offences may be less of a deal breaker than others, however many departments have begun taking a zero tolerance approach for applicants with criminal records.
4. KEEP OFF OF SOCIAL MEDIA
Recruitment officers will look you up on social media to see what kind of presence you have. If they see childish, immature, or radical behavior, they will likely drop you from the recruitment process. Firefighters are meant to be "Pillars of Society", so recruitment officers will be looking for any reason as to why you wont be.
5. FISCAL RESPONSIBILITY
While this is seldom checked by Canadian fire departments, many fire departments in the United States have begun requesting credit checks on applicants. Having a poor credit score, can sometimes lead to you being dropped from the process.
6. COMMUNITY INVOLVEMENT
Working in public safety is all about community service. Volunteering your time for a great cause is one way to prove you're ready to serve your community. And it doesn't matter if it's fire-related or non-fire related. There's a lot of great opportunities out there for you to make a difference.
7. PSYCHOLOGICAL WELLBEING
Firefighter applicants must undergo a psychological assessment to ensure that they are capable of dealing with the psychological demands of the job. Ensure that you work on improving your mental health just as much as you work on your physical fitness.
8. FIRE ACADEMY
Getting entry-level firefighter certifications, such as Firefighter I and II, is a really good idea. Many departments require that you have this training before you apply. The Canadian Fire Rescue College provides this educational requirement. Successful students that graduate from our firefighting programs receive Pro Board® certifications, which are internationally recognized. This means that no matter where you apply, your educational achievements will be accepted.
9. WRITTEN EXAM
Each fire department has their own written exam that you must take during the hiring process. The written exam consists of multiple-choice questions and is divided into categories. The categories typically include reading ability, mathematical reasoning, map reading, and writing ability.
10. INTERVIEW
The Fire Chief and a board of representatives from the fire department will be present for this part of the hiring process. You need to be ready to answer hard questions, be sociable, and have good questions of your own to ask them.

Prepared for Duty Recruitment Service Inc. has partnered with the Canadian Fire Rescue College to assist with providing graduating students the tools and information necessary to gain employment as a firefighter.
Interested Candidates are put in contact with a Prepared for Duty representative, who helps schedule them for standardized testing and assessments. When they complete these assessments, Prepared for Duty adds them to a pre-qualified pool of candidates that several Fire Departments hire from. This allows candidates to essentially complete one hiring process for several potential employers rather than competing for each individual posting.